Soprano Niamh Murray and the Enniskerry Concert Choir present "Joy to the World"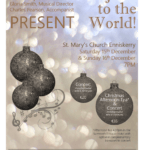 A very special Christmas musical celebration takes place in Enniskerry at 7PM on Saturday 15th and Sunday, 16th December.
"Joy to the World" is a wonderful concert of Christmas favourites old and new presented by the Enniskerry Concert Choir and internationally renowned soprano Niamh Murray. The concerts are now a firmly established favourite in many Christmas calendars, selling out year after year and attracting audiences from all over Wicklow, Dublin and further afield.
Audiences will be treated to mulled wine, warm winter fruit punch and mince pies while enjoying the wonderful music in the Christmassy surrounds of the newly redecorated St Mary's Church.
For anybody wanting to make a really special day of it, there is also an option to enjoy Christmas Afternoon Tea in the Summerhill House Hotel before the concert, followed by the concert, with complementary transport from the hotel to the concert provided for anyone who requires it.
Tickets are available from the Parish Offices (10am – 1pm, or leave a message outside those hours) in Enniskerry (01-276 0030) and Kilmacanogue (01-202 1882) and from The Parting Glass in Enniskerry.
Concert – €20
Afternoon Tea & Concert – €35
Proceeds from the concerts will support Wicklow Homeless Five Loaves, a Bray based charity supporting the homeless, as well as Kilmancanogue National School and Immaculate Heart of Mary parish.