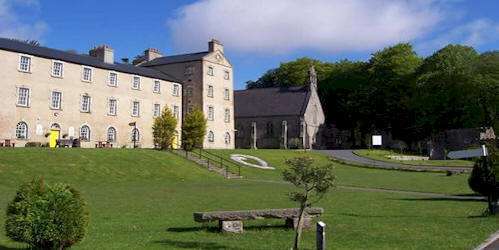 Glencree is a stunning valley in the Wicklow Mountains, with Ennniskerry being at the foot of the valley. It is the second closest valley in the mountains to Dublin city, the first being Glencullen. The river Dargle flows down the valley, which rises to a height of abut 400 metres.
History
Upper Glencree was a beautiful but inhospitable place 300 years ago and no-one lived there. Poor land, steep rocky terrain and forests of small oak trees covering all of the more fertile and sheltered parts of the valley which gave it its name – the Valley of Trees.
A rising population and the enclosing of large estates by ascendancy families – notably the Wingfield, or Powerscourt dynasty – compelled landless people to move further up the valleys to find subsistence. Trees were felled, small fields marked out and stones cleared from the land were fashioned into the familiar Wicklow dry-stone walls. Holdings were small – one or two fields per family, with shared mountain pasture and turf-cutting rights on a patch of peat bog. Townlands were identified with names like Ballyleron, Ballycoyle and Tonygarrow.
Later on, the Powerscourt family, whose estates included all of Glencree, caused 2 or 3-room cottages to be built for their tenant families, cobbled lanes and drainage ditches appeared and the population of the Upper Glen began to increase. Subsequently, a shooting lodge was built at Lough Bray and rudimentary roads linked the area with Enniskerry and the walled estate.
In 1858 the grim military barracks at the head of the valley was handed over to the Oblate Brothers who adapted it for use as an industrial school. For 82 years it was home to over 200 boys, the Oblate community and staff. The cluster of grey buildings were both a focal point and an economic centre for the people of Glencree. By that time, Land League reform had given families rights of tenure and many sought to improve their stock with out buildings for housing livestock.
With the foundation of the State, grants were offered to replace thatched roofs with slate or tile and soon the roads to Dublin and Enniskerry were tarred to accommodate the arrival of the motor car. The closure of the Reformatory in 1940 was a blow to the area in more ways than one. However, reaforestation began to change the landscape and provided some employment in the locality where hill-farming could no longer support the needs of a family.