Pop Up Shop in Enniskerry: Fri 29th/Sat 30th November & Sun 1st December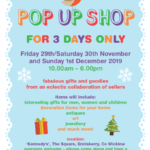 A Pop Up Shop will be open in 'Kennedy's' in Enniskerry village for three days only, on Friday 29th/Saturday 30th November and Sunday 1st December, 10am – 6pm. All sorts of interesting items, from a carefully selected collection of sellers, will be on offer. There will be lots of general gifts suitable for men, women and children, as well as local art, affordable antiques, lamps and other decorative objects for your home, jewellery, hand turned wooden items, accessories for women (including scarves and handbags) and knitted hats/gloves.
Everyone is welcome so please come along and encourage your friends and family to do the same!
For more information phone 087 257 0893.