Santa Claus is coming to town….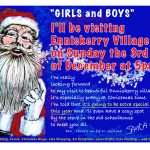 He's making a list, and checking it twice, he's gonna find out who's naughty and nice!
Yes, Santa Claus is coming to town THIS SUNDAY, December 3rd, at 5pm.
This year Santa will be toasting himself by the stove in the Old Schoolhouse in Enniskerry Village where he's really looking forward to meeting all the boys and girls.
And while you're waiting for Santa to arrive, why not visit the Powerscourt Arms and other locations around the village between 3.30pm and 5.00pm when there will be lots of special things going on including local crafts, face painting, Christmas bingo, and much more. Amazing bingo prizes include tickets for Niall Horan and Taylor Swift, vouchers for Platform Pizza, Magpie Books and lots more!!
Seeeee you SUNDAY…..Ho, Ho, Ho!