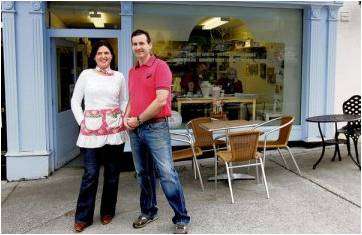 Café & Country Store
Enniskerry, Co. Wicklow
www.kennedysofenniskerry.com/home
Email: santina@kennedysofenniskerry.com
Kennedy's of Enniskerry is a charming café located in the heart of Enniskerry village. They offer visitors a combination of freshly baked cakes and breads, delicious lunches, wonderful Java City Fair Trade coffee & a very friendly welcome.
Kennedy's opened its doors in  June 2009,  offering a range of delicious food, much of which is locally produced organic produce. We continue to add to our ever increasing gourmet deli range. Every product on our shelves has been chosen with care and over 80% of our foods are produced in Ireland. In addition we stock locally made crafts.
Our Java City Fair Trade coffee and sandwiches made with bread from the Bretzel Bakery became very popular. We decided we  needed a bigger premises and moved to our new location, at Church Hill,  Enniskerry in December 2011. Our aim is to provide good quality food at reasonable prices in a friendly relaxed environment. Our customers agree: see media reports about us!
 Santina & Andrew Kennedy