Joy to the World – Niamh Murray & Enniskerry Concert Choir – THIS WEEKEND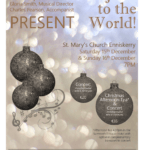 Tickets are flying out for concerts this weekend in St. Mary's Church, Enniskerry starring soprano Niamh Murray and the Enniskerry Concert Choir.
This year's concerts will support important local causes including WH Five Loaves, a Bray-based charity supporting people dealing with homelessness. 
Call (01) 276 0030 to reserve, or drop in to The Parting Glass where they are also for sale (€20). The concerts take place on Saturday and Sunday at 7PM each evening – wonderful Christmas music, mulled wine and mince pies – everything you need to get you into that seasonal mood!