Slazenger Family Celebrates 50 Years at Powerscourt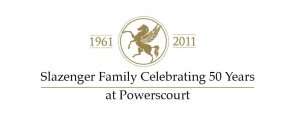 The Slazenger family is delighted to be celebrating 50 years in business at Powerscourt Estate. To mark their golden anniversary, they have some great events taking place at Powerscourt on Saturday and Sunday October 1st and 2nd!
Outdoor enthusiasts can start their weekend with a spot of yoga in our walled garden or enjoy a walking tour of the gardens.  Local artists will present their work at an art exhibition in Powerscourt Ballroom where visitors can enjoy stunning views of the gardens and live music. Get your garden ready for autumn with expert advice and tips on spring gardening at our Garden Pavilion talks.
For younger visitors there will be outdoor children's games, gardening workshops and Face-painting. Avoca will run a colouring competition for all budding artists! There will be an afternoon of magic and balloons at the Museum of Childhood featuring Tara's Palace. The museum and its beautiful 22-room palace recently relocated to Powerscourt House.
Powerscourt Golf Course is holding 'a festival of golf' for those who love a challenge! There are variety of competitions taking place, many of which are open to the public with some brilliant prizes on offer. www.powerscourt.ie/golf-events
The cost of taking part in many of the events is included in the entry price to Powerscourt Gardens. A full listing of events and costs can be found below and at www.powerscourt.ie/events. With the exception of the wine tasting workshop and festival of golf, there's no need to book ahead for any of the events. It will be a fantastic weekend for all the family! Please join us to celebrate 50 years of the Slazenger family at Powerscourt and the continued success of the Estate in the future.
For further information, please contact:
Aoife O' Driscoll, Marketing & Communications Manager, Powerscourt Estate.
Phone: + 353 2046000 (Direct Line: + 353 204 6009) / + 353 87-6179922
Email: aoife.odriscoll@powerscourt.net
Website: www.powerscourt.ie / Facebook: www.facebook.com/powerscourtestate