"A Classical Christmas" with internationally renowned soprano Niamh Murray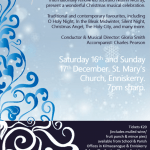 "Have you heard the news?!" "Oh, if I had the voice of an angel!" "Are there any tickets left?!"
These are the words on everybody's lips ever since the news was confirmed that the internationally renowned soprano Niamh Murray will perform with the Enniskerry Concert Choir at this year's A Classical Christmas concert. Now in its fifth year, A Classical Christmas ushers in the final countdown to Christmas in the wonderfully festive surrounding of St. Mary's Church, Enniskerry, and the event has been a sell-out event year after year.
Following three successive years performing with the charismatic and talented tenor Ross Scanlon, this year A Classical Christmas welcomes soprano Niamh Murray to the stage, to captivate us with Christmas favourites that she has performed in concert halls across Europe and America. By popular demand, the six-part Enniskerry Concert Choir, which numbers almost 50 outstanding singers under the guidance and baton of their highly regarded musical director Gloria Smith, will perform an expanded repertoire this year, featuring traditional classics such as O Holy Night and In the Bleak Midwinter together with modern favourites including The Prayer, The Holy City and John Rutter's Nativity Carol. Ireland's foremost organist Charles Pearson will once again accompany the singing on grand piano and pipe organ.
The proceeds of this year's concerts will go towards Kilmacanogue National School (where, when she isn't performing on stage, Niamh Murray is the current Principal!), St. Mary's & St. Gerard's National School, Enniskerry, and Immaculate Heart of Mary Parish (comprising Curtlestown, Enniskerry, Glencree and Kilmacanogue).
And so, to the best news! Such has been the level of interest that, for the first time ever, a second night has been added and the concert will now take place at 7pm on both Saturday 16th and Sunday 17th December. There are still a few tickets available, but at just €20 they are selling fast! If relaxing to the sound of wonderful singing while sipping mulled wine and nibbling mince pies sounds like the perfect way to mark the final countdown to Christmas, contact the School or Parish offices in Kilmacanogue or Enniskerry or The Parting Glass on Church Hill in Enniskerry and grab one of the last remaining tickets. Enquiries (01) 276 0030.